We are going to attack the capital of Naples and annex that shit for ourselves.
Red:
These X's mark the nations we are at war with.
Yellow:
Our main attack force, headed for the Naples capital of Napoli. 10,000 infantry, boarded on 10 Transport ships, escorted by 10 Large ships. Our fleet should encounter little resistance, but our men might be in for quite a fight upon landing. Luckily the surrounding area is mostly open plains, and if we have to fight before settling in and starting the siege, we will not be at a disadvantage.
Green:
Scouts. I fear that Naples' allies in the war, Milan and Provence, might attempt an attack during the siege, so I will send 3 Large ships and 3 Small ships to scout the area. They will not be able to defend against a powerful fleet, but at the very least should be able to provide few weeks' warning and maybe delay the enemy fleet if necessary.
10,000 men could very well be met by a retaliation in similar number, maybe even more. However, thanks to the other wars Naples has been fighting, they are fairly distracted and I might be able to get my army in with a slow response. Our armies are experienced and disciplined from our war with the Islamic scum to the south. Our men are eager to battle, as is much of our navy. We are simply waiting on 2 more Transport ships to be built.
I expect our ships will be sailing at the start of April of 1403, in 29 weeks.
And this is just Plan A.
(Strategy Game General thread)
ARE YOU BITCHES READY FOR MONTAZUMA TO RAPE YOU IN THE ASS??
(My Progress in Civ 5)
So far I have defeated the Queen of England and King beardman, Now this island is my bitch.
I even put roads down connecting everything on the island, to produce MAXIMUM INCOME BITCHH



Posts

: 186


Join date

: 2012-03-23


Age

: 26


Location

: sgfdsxazsvdbend



UPDATE : I Eventually studied nucular bombs, sent them to everywhere, and the game crashed. The save file won't load, So i'm just going to say I won that game.



Posts

: 186


Join date

: 2012-03-23


Age

: 26


Location

: sgfdsxazsvdbend



gg

play on a higher difficulty now, with more players and as the viking nation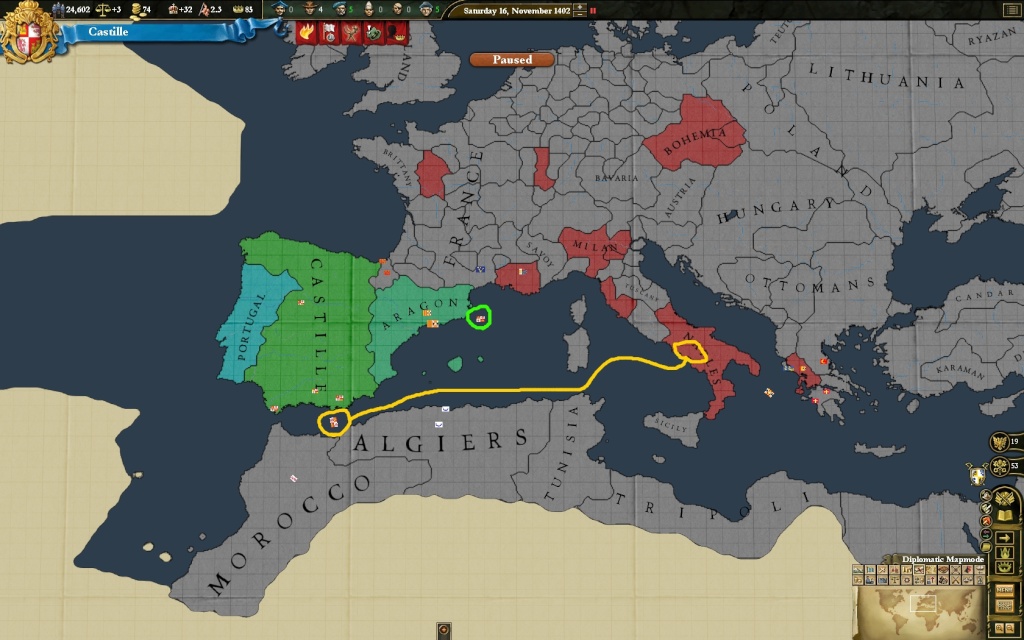 CHANGE OF PLANS
A chain of alliances has lead me to being at war with an additional 3 nations. While I do not fear them in their current state, allowing too much time to pass and allowing them to recover could be disastrous.
I have allowed the regiments and ships to mostly heal, but we are only leaving with 8 transports and 8,000 men. Naples and Milan, our biggest two enemies, are regaining their War Capacity quickly.
The scouts have discovered Province, while 7,000 men strong, have no ships. The scouts are moving on to the sea outside of Milan now.
Napoli's in for a treat. We shall strike fast and decisively, and while they are still in shock, we will siege the city and it will be ours.
I will also be sending out an offer for an alliance to Sicily. They are already at war with Naples, but they seem to have a capable navy and it may be worth being their ally in the long run.
Also, I fucking LOVE grapefruit, holy shit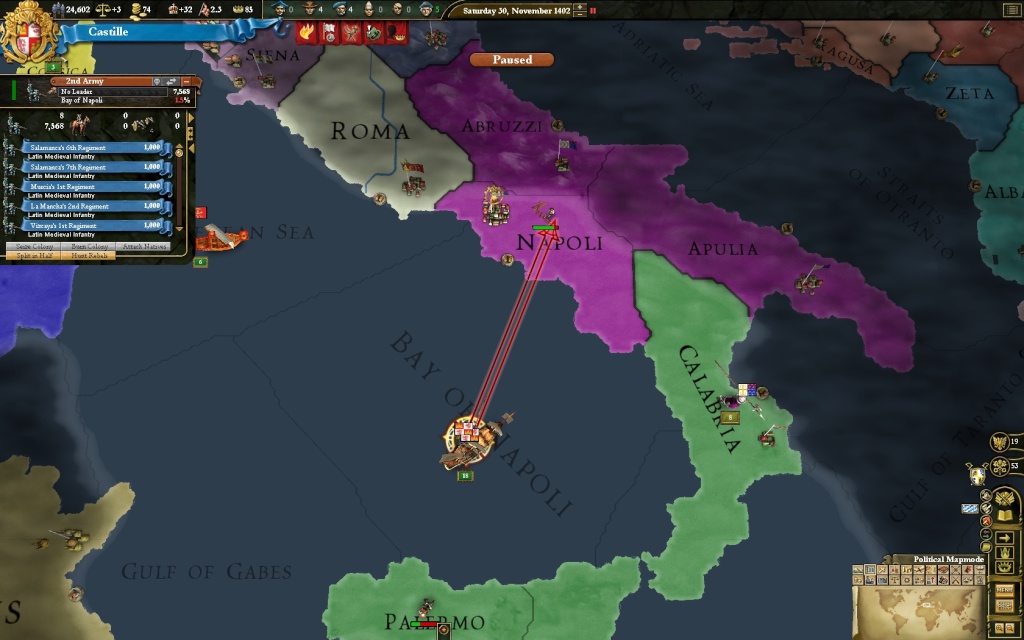 Sicily has declined our peace treaty and abandoned the war. Naples' and Milan's War Capacity has skyrocketed. I now stand alone as their opposition. I will likely not succeed in my mission.
Their army retreats to the capital, just under 8000 men strong. Some cavalry, some infantry.
But it too late to turn around. One nation is going to lose almost 8000 men in the coming days; let us pray it is them.
They outnumber me by 500. To say defeat is not an option would be from a misinformed individual, or a flat out lie. But, fuck it, we're gonna try.
The 2nd Castillian Intervention will truly begin in about 2 weeks when our armies meet outside of Napoli.
Last edited by Sir Sneaky on Tue Jun 12, 2012 9:17 pm; edited 1 time in total (Reason for editing : whoops resized the image wrong)
It begins.
I forgot regiments get partially refilled at the start of each month in friendly territory so they actually will be starting out with 9000 units. Oh yeah, they have a Commander too.
We have a Morale advantage to start with, and our first round had a good starting roll of the dice, but I fear our luck will run out.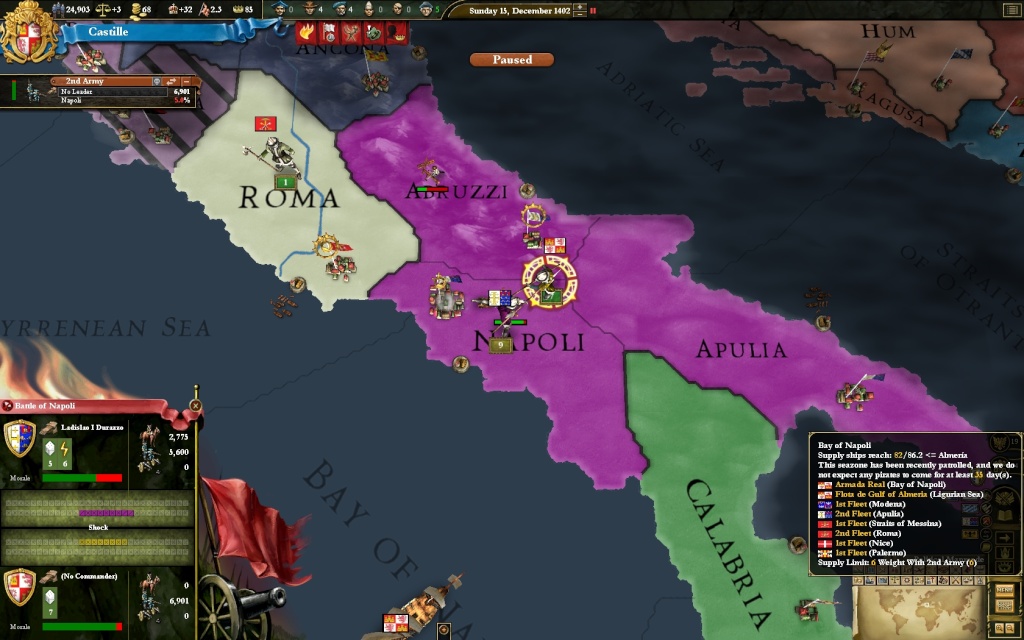 >that shock bonus (the number with the lightning bolt)
Nevermind, we're fucking toast.
We got the fuck out of there. I'm going to split our navy in half and guard the two sea sections that are the gateway to our nation and play defensive for a year or two, build up more transport ships and maybe try to fuck the shit out of Provence strike up a peace deal.


Similar topics
---
Permissions in this forum:
You
cannot
reply to topics in this forum