In tribute to that other faggot forum


TTT Is pretty cool you gauis



Posts

: 186


Join date

: 2012-03-23


Age

: 26


Location

: sgfdsxazsvdbend



ChocolateMoose wrote:In tribute to that other faggot forum

TTT Is pretty cool you gauis
Headshot 360 no-scope pro haxxors
Admin




Posts

: 356


Join date

: 2012-03-23


Age

: 27


Location

: Tejas






Posts

: 4


Join date

: 2012-03-23


Age

: 24



BritishGuy wrote:I like video games.
What kind?



Posts

: 186


Join date

: 2012-03-23


Age

: 26


Location

: sgfdsxazsvdbend






Posts

: 7


Join date

: 2012-03-23


Age

: 25


Location

: Uruguay



haven't posted all day because i've been playing
Spoiler:

dota 2
it's fun but good lord I am bad



Posts

: 185


Join date

: 2012-03-23


Age

: 24


Location

: Uranus



Dungeons of Dredmor is a pretty cool rogue-like, and it's going to get a large update and probably go on sale tomorrow. It's normally $7.50 for the base game + realm of the diggle gods expansion, will be $3.25 if it goes on sale half-off. You'll pay more for the water you shit in than this game.

It's got quite a bit of replayability and even more with mods (which are getting Steam Workshop support in this patch to make them easy to install and update). I've got 67 hours played and more to come in the future. You'd really have to hate fun to not get your money's worth out of this game.

If you're a severe poorfag or still aren't sure you can always pirate it too

it's got some pretty swell music too



Posts

: 247


Join date

: 2012-03-23



Mount & Blade and its (standalone) expansions are 75% off for the weekend. I bought the collection of all three.
http://store.steampowered.com/app/22100/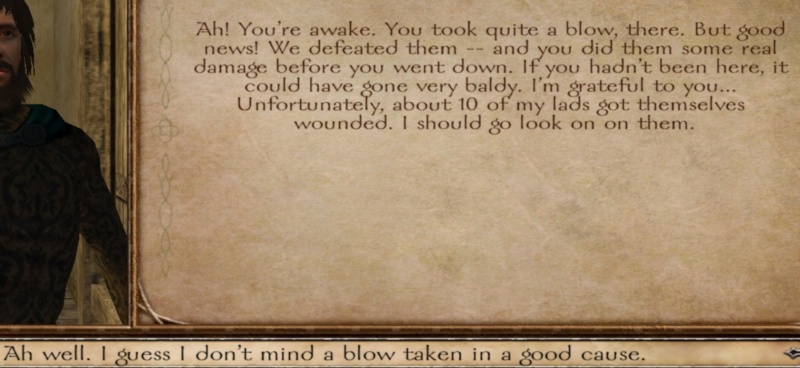 Spelling errors aside, it's pretty fun. It's got a fairly generous demo, too, which if I remember correctly gives you an in-game month, which is roughly 5-10 hours depending on how you spend it.
Also Super Monday Night Combat is out of beta and free to play now. Not a bad game.
No idea why i'm posting this since Moe doesn't like these types of games and Moose won't be back for another several days. This forum's less active than the Mcmangos forum was when he killed it.

---
Permissions in this forum:
You
cannot
reply to topics in this forum